Genting Rewards
Play to win. Play for rewards!
Stop by the Genting Rewards counter to sign up for a free membership card. Then, use your card every time you play to earn valuable rewards including Free Play, food & beverage offers, and much more.
Join Genting Rewards and earn valuable points when playing your favorite slot machine or electronic table game. Points can be used for free play, food and beverage, merchandise, and more!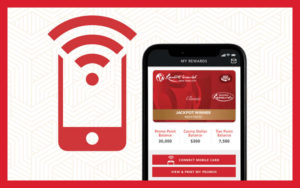 The Genting Rewards mobile card is a new technology that allows guests to eliminate
the need for a physical Genting Rewards card while also charging their smartphone!
1. Download our free mobile app from the store.
Search the app store for "Resorts World New York"
2. Install the app and log in under "Account" using your
Genting Reward number, date of birth, and pin.
3. Place device near the card reader and press
"Connect Mobile Player's Card."
4. Once connected the display will turn Green!
Card Tier Levels
Card Tier Levels

RED

0 – 2,499 Tier Points

SILVER

2,500-9,999 Tier Points

GOLD

10,000-24,999 Tier Points

PLATINUM

25,000-49,999 Tier Points

BLACK

Invite Only

Redeem points for free play, food and beverage, merchandise

Redeem points for entries into promotions & extra chances to win entries into drawings

Earn points for complimentary Beverage and cocktail service while playing

Redeem points for free play, food and beverage, merchandise

Redeem points for free play, food and beverage, merchandise

Redeem points for entries into promotions & extra chances to win entries into drawings

Earn points for complimentary Beverage and cocktail service while playing

Loyalty gifts+

Redeem points for free play, food and beverage, merchandise

Redeem points for free play, food and beverage, merchandise

Redeem points for entries into promotions & extra chances to win entries into drawings

Earn points for complimentary Beverage and cocktail service while playing

Loyalty gifts+

Access to premium promotions and exclusive events

Premium access to Genting Rewards and casino cage

Discounted Hotel Rates at Resorts World Catskills and Resorts World New York City*

Complimentary Crystal Life Spa services at Resorts World Catskills

Redeem points for free play, food and beverage, merchandise

Redeem points for free play, food and beverage, merchandise

Redeem points for entries into promotions & extra chances to win entries into drawings

Earn points for complimentary Beverage and cocktail service while playing

Loyalty gifts+

Access to premium promotions and exclusive events

Premium access to Genting Rewards and casino cage

Discounted Hotel Rates at Resorts World Catskills and Resorts World New York City*

Complimentary Crystal Life Spa services at Resorts World Catskills

Cash advance or cash checking fee waived

Complimentary getaways to Resorts World Bimini, or Resorts World
Las Vegas*

Redeem points for free play, food and beverage, merchandise

Redeem points for free play, food and beverage, merchandise

Redeem points for entries into promotions & extra chances to win entries into drawings

Earn points for complimentary Beverage and cocktail service while playing

Loyalty gifts+

Access to premium promotions and exclusive events

Premium access to Genting Rewards and casino cage

Discounted Hotel Rates at Resorts World Catskills and Resorts World New York City*

Complimentary Crystal Life Spa services at Resorts World Catskills

Cash advance or cash checking fee waived

Complimentary getaways to Resorts World Bimini, or Resorts World
Las Vegas*